Spring and Autumn baby can choose what single product babu bean to accompany children happy growth
---
Spring and autumn
are definitely warmer than winter, but for children not yet to wear casually, warmth is still the theme of spring and autumn. There are still many baby underwear items that can be selected in spring and autumn. The Babu Bean brand provides you with a lot of choices, so that you can find your own style of dressing. Parents put a lot of effort into their children's development, including in terms of dressing. In order to create a warm and stylish look for your baby, what items can you choose for your baby underwear in autumn and winter?
Babudou (China) Children's Products Co., Ltd.
provides high-quality children's clothing for children, helping to present a variety of fashionable children's clothing styles. For specific outfits, let's refer to the Babudou children's clothing brand!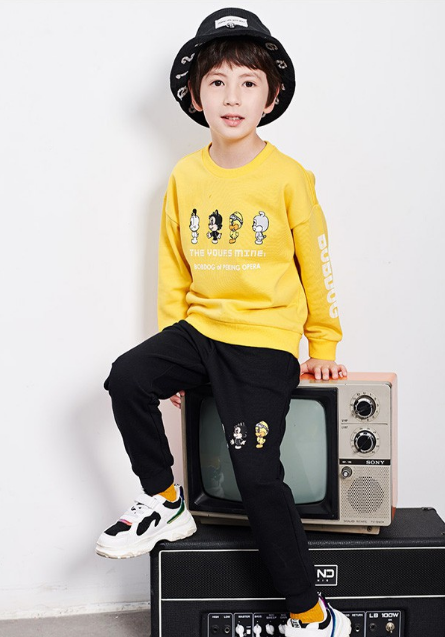 Sweatshirts are one of the most used items in autumn and winter, and they can enhance the fashion sense of the look when worn well. Parents can choose a yellow sweatshirt for the baby boy, the color is bright and vibrant to match the skin tone, and the fun illustration design adds a sense of fashion to the shape, avoiding monotony, and wearing casual fashion. The lower body is paired with a pair of black slacks, the color is classic and attractive, and it looks durable and stylish to wear. Paired with a pair of trendy sneakers, it enhances the fashionable look. On top of this, wear a black fisherman's hat for a cool underwear!
Autumn and winter parents can also choose a simple undershirt for their baby boy, which is really versatile. This gray semi-turtleneck undershirt from the Babudou childrenswear brand has a classic and low-key color, and it is simple and elegant to wear. The lower body can be matched with a pair of jeans for baby boys, which is frank and fashionable. On the basis of this outfit, wear a yellow knitted hat to enrich the color of the shape, enhance the fashion, and also have a warm effect! When the temperature is low, take your baby out with a cotton jacket or a short coat! Create a stylish underwear look!